If you are viewing this on a mobile device the main navigation links are at the foot of each page.
To navigate through all content, click the 'All Posts' link, otherwise select by category.
To listen in to our dedicated radio stream, click the appropriate icons at the top of the page (see below for more information about the options available).
We have improved the visibility of our comprehensive news service.  If you wish to be notified of news updates by email, just register!  Click or tap here for news summaries
---
The Darkness drummer Emily Dolan Davies has left the band, after only joining the band in March.
Cult 70′s pomp rockers Aviary have a new album out now and it can be ordered via their Facebook page.
Trixter release their new album 'Human Era' on June 5th on Frontiers.
Guitarist Dani Evans has left Alestorm and fellow guitarist Tristan Visser has left Majesty.
Magnus Karlsson is working on the follow-up to his 2013 solo album, provisionally titled 'Free Fall II'. Guest musicians set to appear include Tony Martin (ex-BLACK SABBATH), Joe Lynn Turner, Jorn Lande, Jakob Samuel (THE POODLES) and Harry Hess (HAREM SCAREM).
Paul Simon's 'The Ultimate Collection' debuted at number 1 in the UK album charts  w/e 19th April. Halestorm debuted at no.10, Beth Hart at no.33 and the Eels at no.40
Motorhead cancelled their recent Monsters Of Rock show as Lemmy fell ill. No news if the band will be able to play their other scheduled shows.
KISS
Saturday 30th May Rockavaria Festival, Munich, GERMANY
Sunday 31st May Rock im Revier, Gelsenkirchen, GERMANY
Tuesday 2nd June O2 Arena, Hamburg, GERMANY
Wednesday 3rd June O2 Arena, Berlin, GERMANY
Thursday 4th June Leipzig Arena, Leipzig, GERMANY
Saturday 6th June Rock In Vienna Festival, Vienna, AUSTRIA
Monday 8th June O2 Arena, Prague, CZECH REPUBLIC
Wednesday 10th June Hallenstadion, Zurich, SWITZERLAND
Thursday 11th June Verona Arena, Verona, ITALY
Sunday 14th June Download Festival, ENGLAND
Tuesday 16th June Zenith, Paris, FRANCE
Thursday 18th June Ziggo Dome, Amsterdam, HOLLAND
Friday 19th June Graspop Festival, BELGIUM
Sunday 21st June St Jordi, Barcelona, SPAIN
Monday 22nd June Barclaycard Arena, Madrid, SPAIN
More News
---
In this interview extract, Rod Argent talks about 'She's Not There' and the debut album 'Odyssey And Oracle' (10:32)

This is part of a special feature on Get Ready to ROCK! Radio first broadcast in May 2012.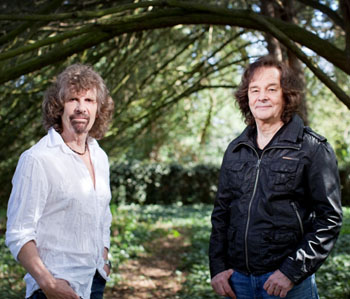 Rod Argent and Colin Blunstone together for acoustic set
Rod Argent and Colin Blunstone come together for a special acoustic evening on Friday 1 May at the Union Chapel, London.
Billed as "a rare acoustic piano and vocal performance by The Zombies' founders", the setlist will span fifty years and also preview their forthcoming studio album.
---
THE DUNWELLS Lucky Ones
---
---
---
Listen in to Get Ready to ROCK! Radio… Click the appropriate icons at the top of the page.
From left: FLASH - not applicable to iPhone and some Android smartphones
HTML5 - opens up a Player compatible with iPhone, iPad and some Android smartphones.
WINDOWS - will open up Windows Media Player if you have it
WINAMP – will open up WinAmp or iTunes, or Real Audio if you have them on your computer or mobile device. (If you have Real Player for Android it will download a file which can then be played by opening up that file – located in your downloads folder).
If all else fails when mobile you can access our radio station using the TuneIn app!
The app is available as a free version for iOS and Android smartphones. After loading the app simply search for "Get Ready to ROCK!' and save as a favourite.
You can also access Get Ready to ROCK! Radio via the TuneIn website here

Listen again to Get Ready to ROCK! Radio
You can listen to selected shows and special features at our Mixcloud page.